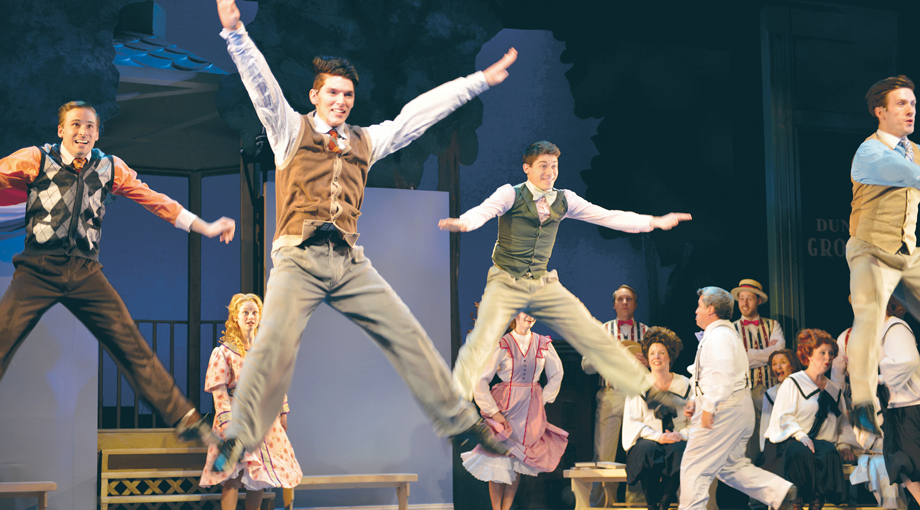 In 2014, Schuman, back right, appeared in "The Music Man" at the John W. Engeman Theater in Northport. Photo Credit: Michael DeCristofaro
Justin Schuman, a master of many roles
They're the Energizer Bunnies of Broadway. We're talking swings — performers prepared to go on at a moment's notice when one of the regulars can't. It's a crazy, frenetic life, but one that Long Island native Justin Schuman revels in as he makes his Broadway debut in "Tina — The Tina Turner Musical."
Unlike understudies, swings cover a variety of roles. Schuman, who grew up in Melville and South Huntington, is responsible for covering four major parts, along with bits of others. (He made his official Broadway debut shortly after the show opened last November with just two lines usually performed by a woman in the ensemble.) "When I explain to people what I do," he says, "they don't think being able to go on for so many roles is realistic." But, he adds, that's "literally what the job is."
The most extensive role the 28-year-old actor covers in this biographical musical is Roger Davies, the Australian music producer largely responsible for Turner's comeback in the 1980s. Schuman threw on Davies' blond wig for two performances in early December, an experience he says went off without a hitch, thanks in part to the support of Adrienne Warren, who plays Tina. "She is this beacon of strength," he says. "She delivers this performance that defies description, because she's not just doing her best Tina impersonation, she has taken this woman who is a survivor of domestic abuse and adversity . . . and put it in her own body."
Confessing to some nerves before going on as Davies, he recalls her saying "look into my eyes, I will take care of you." And while he might be a tad starstruck, Schuman considers Warren a friend. "She wanted me to succeed and really had my back." Warren isn't quiet about her admiration for the show's swings. She recently tweeted "I am a fan girl of EVERY SWING in @TinaBroadway . . . our swings are EVERYTHING!!!!!!"
Schuman's road to Broadway started on Long Island stages, where he did shows from the age of 13 with groups like Township Theater, Cultural Arts Playhouse and Star Playhouse. "I found this young man not only a true talent but disciplined on stage beyond his years," says Rick Grossman, who directed Schuman in several shows, including "The Music Man," where, says Grossman, "his dance skills had audiences in awe."
"What I loved about the community theater scene on Long Island," says Schuman, "was there was this reverence and seriousness with which we all treated it." Unlike some community theaters where no one really cares, he says, on
Long Island, people "really took it seriously . . . it was a good lesson early on in time management and respecting those around you."
Those lessons served Schuman well following his graduation from Northwestern University in 2013. Finishing a little early to get on with his career, he remembers thinking, "It can't be as hard as everyone says." Wrong. The young actor, who graduated from Walt Whitman High School in Huntington Station in 2009, worked for six tough years on the regional circuit before landing on Broadway.
He did "The Music Man" at the John W. Engeman Theater in Northport, then traveled to Pennsylvania and Maine for "Newsies," playing Davey, a portrayal Broadway World described as "intelligent and gentle." He also did a pre-Broadway tryout of "Ever After" at the Paper Mill Playhouse
in New Jersey, and was obviously disappointed when the
show, based on the 1998 Drew Barrymore film, didn't transfer to New York. That one's not dead yet, though. He did a reworked version early last year at the Alliance Theatre in Atlanta and thinks the writers deserve a shot. "Plus I won't be in 'Tina' forever," he says. "It's good to have other things in the pipeline."
For now, though, he waits patiently backstage at the Lunt-Fontanne Theatre during every performance, hoping "everyone's healthy" but ready to go on if the call comes. In the meantime, he serves as the show's fight captain, and also runs a photography business, JShoots, taking headshots for other performers, which he started four years ago during "a slumpy moment in the business."
Needless to say, Schuman was emotional when a text informed him he'd landed the role in "Tina"— full-out sobbing on the stairwell. But he also feels after years of rejections that he's earned it. "I'm so grateful," he says, "but I've been working my butt off for this for years. This one felt like I'd paid my dues. It was very satisfying."
Reflecting on his path, Schuman says he spent six years building a reputation as a nice guy. There are so many talented people, he notes, so I've focused on being a good person. "You have to be respectful, you've got to be polite, you've got to be kind, generous. I think I've spent six years trying to be the best person I could be." 
Freelance writer Barbara Schuler was Newsday's features editor and theater critic.