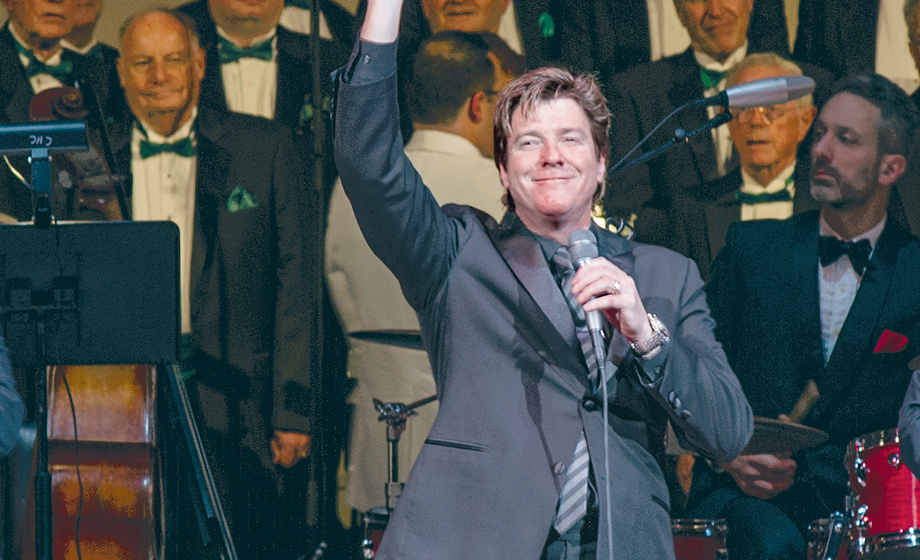 Andy Cooney in concert at Carnegie Hall in 2015. Photo credit: Genevieve Rafter Keddy
LI's Andy Cooney lights up Carnegie Hall with a Christmas concert
Andy Cooney never had a backup plan. From the days when he was a kid growing up in Massapequa, getting up on tables to perform at parties and being shepherded by nuns around his Catholic school to do the same, he just wanted to sing. "I had no desire to do anything else," he says. "So I'm very, very lucky that it worked out."
If singing at Carnegie Hall is any measure, it did work out. This month, the Irish American tenor will perform at the famed New York City venue, and not for the first time. The lineup for "Andy Cooney's Christmas Celebration" on Dec. 9 includes country music trio Larry, Steve & Rudy: The Gatlin Brothers, Irish pop star Brian Kennedy, the Hibernian Festival Singers, and The H.I.M.S. (Hope Inspired Men Sing) from Hope House Ministries. As it did last year and the year before, the concert benefits the Port Jefferson nonprofit Hope House, which houses and treats young people with drug and alcohol addiction.
But those who'll share the stage with Cooney would tell you he doesn't leave things to luck alone. He's a "go-getter," the "quintessential American entrepreneur," according to Grammy-winning Larry Gatlin. "He is one of the hardest working artists I know," says Daniel Rodriguez, who is one third of The New York Tenors alongside Cooney and Christopher Macchio. "Every time I call him, he's either in Ireland or in New York or on tour or on a cruise." He's always organizing and performing — individual gigs and marathons like the 10-day musical tour of Ireland he led in October, his 22nd Cruise of Irish Stars scheduled for January, and his upcoming tour of The Irish Cabaret — with a stop at the new Argyle Theater in Babylon on March 18.
When he's not under the spotlights, Cooney's back in Massapequa Park, where he lives with his wife, Susanna, less than two miles from his childhood home. "It was a wonderful place to grow up," he says, "and I wanted that experience for my kids." Shannon is now 24 and Ryan is 23. Plus, with all the traveling he does for work, "I always wanted to be able to come home, and this is really home," he says. "I know every street; I know every tree."
Some of Cooney's most vivid memories from his childhood on Long Island have to do with his grandfather's voice. The immigrant from Dublin was an Irish tenor who quieted a room. "I was kind of taken by that and before I knew it, my mom was writing me out the words to the songs," Cooney says. Named after this grandfather, he inherited those musical talents as well and still performs "Happy Are We All Together," an old Irish tune his grandfather sang.
By the time he was a teenager, Cooney was singing and playing at the Parkview nursing home in Massapequa, and a few years after that he was a regular act at Kennedy's, taking the train into the city a couple nights a week. At 19, he joined the Paddy Noonan Band for seven and a half years, touring and recording his first records. "Then it was time for me to spread my wings," he says. His first gig after leaving the band brought him to the Westbury Music Fair. "I have to say a special thanks to my mom because she made sure everybody was there," he says.
Two and a half decades later, Cooney hopes to sell out Carnegie Hall, a venue Rodriguez calls "the crown jewel." There'll be buses coming in from surrounding suburbs. There'll be Grammy-winning artists. And there'll be a good cause, because at the end of the day it's about "the real meaning of Christmas," Cooney says. "It's about truly being happy, giving, being charitable."
For Father Francis Pizzarelli, founder, executive director and CEO of Hope House Ministries and a lecturer at St. Joseph's College in Patchogue, it's an opportunity to spread the message of the work he's been doing for 40 years, aided by "the generosity of the average citizen," he says. The concert will raise money to support the nonprofit's operating budget, education and training for the youngsters it helps.
As for the show, "it's a very upbeat, hopeful celebration of the season," says Pizzarelli, who, like Gatlin, has known Cooney for decades. "It's really a night to celebrate the gift of hope." And with The H.I.M.S. performing, "the people that support us have an opportunity to see their gifts in action, if you will, the transformation that has taken place in the young men," some of whom were once addicted to drugs and served time in prison. Now, they're singing at Carnegie Hall.
As Gatlin says, Cooney is "a 'putter-together,' as it were, of different eclectic groups, types of music and people. And he cares." But that doesn't mean he won't have a laugh, too. "When you see Andy on stage, that's the man. He's joking and singing. It's not a persona that he puts on," Rodriguez says. That's the man you'll meet if you run into Cooney in Massapequa Park. 
Stav Ziv is a journalist based in New York City. You can find her on Twitter @stavziv.