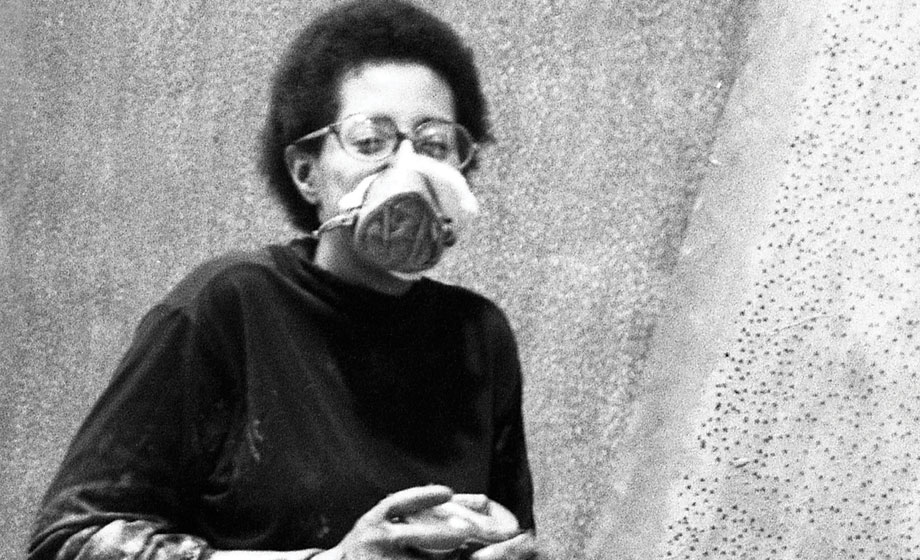 Pindell in her loft at 322 Seventh Ave. in Manhattan around 1970. Photo credit: Amy Stromson, courtesy the artist and Garth Greenan Gallery
As her fame builds, mixed-media artist and Stony Brook University professor Howardena Pindell continues to create powerful art and inspire her students
Several times a week, Howardena Pindell heads from her home in New York City to Stony Brook University, where she'll mark 40 years of teaching in the Department of Art this fall. In the beginning, she took the train. Today, she has a driver. Some things have changed for Pindell — even as others have stayed consistent and she persistent. You can learn quite a bit about Pindell if you zoom in on 1979. When the year began, she was working in the Department of Prints and Illustrated Books at the Museum of Modern Art and making her own art, too. "It was like I led a double life," she says. But then again, she's always also been making her own art, from the time her third-grade teacher in Philadelphia told her parents she was a budding talent, through her recent 76th birthday and, you can bet, this week — and next.
In the spring of 1979, she protested at the nonprofit publicly funded Artists Space, where a white man had called his exhibition of abstract charcoal works "The [N-Word] Drawings." As a black female artist in a white male dominated field, Pindell was already well acquainted with racism and inequality in the art world. There weren't many colleagues who looked like her, not when she enrolled in Yale University's MFA program nor when she arrived at MoMA in 1967.  That exhibit "started a firestorm," Pindell recalls. "I just thought, I don't want to work within that part of the art world." Teaching, which had always appealed to Pindell, hadn't been much more welcoming. "It was hard for women to find teaching jobs and for people of color," she says. But that year, "the door opened up at Stony Brook."
Provocative and Outspoken
By summer she'd left MoMA and when the semester commenced, she was making regular trips to Long Island. A car accident that fall, however, left her with a concussion and injured her hip. "1979 was a tough year," she says, and in its
wake "my work changed in subtle ways." She started making issue-related art. Most famous perhaps is her 1980 video, "Free, White, and
21," in which she plays herself as well as a racist white woman responding to her, the black female artist. In the years since, Pindell's oeuvre has addressed international women's rights, AIDS, genocide and more. An upcoming video work focuses on civil rights.  Pindell speaks at a low volume, but her voice
isn't quiet. "Having a strong voice and a powerful voice isn't the same as having a loud voice," says Athena LaTocha, a former graduate student and current friend of Pindell's who's now a working artist herself.  "I was very outspoken in terms of issues of diversity in the art world and some people didn't like that," Pindell says.
She brings the same honesty to her students, who call her Howardena and say she's generous with her time and stories, direct but also gentle and encouraging. "I don't believe in discouraging students who don't have an initial spark of talent," she says. Nor does she expect them to emulate her. "If you could sign your name, you can draw. And everyone's signature is different."  These are the kinds of words students carry with them. "I remember her telling me to just be good to yourself and do the best that you can, which I wrote down in my sketchbook, so it was important to me," says Cici Lampa, a studio art major and teaching assistant for Pindell. Two other students who studied with Pindell more than a decade apart — LaTocha, a 2007 MFA graduate, and
Lauren Ruiz, who just completed the same program — recount the same anecdote Pindell clearly likes to tell her charges: A friend applied for something 25 times and received 25 rejections before succeeding the 26th time.  A 'ROCK STAR'
Pindell doesn't just pass this lesson on to her students, she embodies it. Her story is one of perseverance. No one would deny that she's had myriad successes throughout her career, but it's also impossible to ignore the new level of acclaim she's recently enjoyed. These days, as Lampa puts it, she's "the rock star around here." And according to Ruiz, the sentiment in the department is, "Well, it's about time." The last five years are as crucial to Pindell's story as 1979. "A lot of people are [finally] paying attention to African-American art and artists," says Garth Greenan, whose Chelsea gallery has represented Pindell since 2014. But "Howardena has always been such an innovator. Really a trailblazing painter."
Last year, Chicago's Museum of Contemporary Art presented the first major survey of Pindell's work. Her first solo exhibit in the United Kingdom just opened in London. Her pieces are also in the permanent collections of several major museums, including MoMA. "I'm appreciative of people expressing their respect for my work, but I'm feeling a little bit rattled, so much at once," says Pindell, who today uses a walker and relies on help from two studio assistants. But she's still the same artist and teacher she always was. At the end of the day, she says, "I just want to continue doing my work." LIL