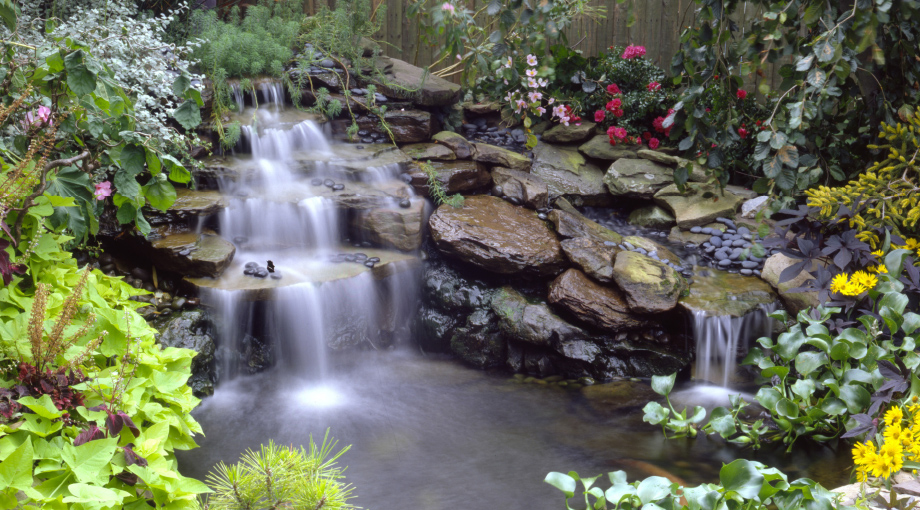 A waterfall and koi pond designed by Finesse Landscape Design at a South Merrick home. Photo credit: Bates Photography.
Lavish touches move from indoors to out
There's no reason your living space needs to stop at the back door. Instead, open it wide to an outdoor retreat complete with dining, living room and bathing areas, as well as tranquil and secluded spots. This trend in backyard design is about creating an entire outdoor living space for the whole family's entertainment rather than just having a utilitarian patio, says Nino Nicolia, vice president of Nicolock Pavers in Lindenhurst.
"Today people are more interested in outdoor living as a hobby so they're willing to invest in it," Nicolia says. "For example, they're integrating their barbecue into an extensive outdoor kitchen with a sink, refrigerator and wood fires for barbecue smoking."
Create a floor plan
Pulling the outdoor living area away from the house into the landscape, so it's not confined by the exterior walls, is a good approach, says Neil Markey, owner of Sitescapes Landscape Design in Stony Brook. You can modulate the spaces with elevation. For instance, rather than stepping out the back door to a patio, have a landing platform surrounded by a garden so you feel like you're entering a different area. Then, move down to a viewing platform near the back door for a barbecue. The next step down can be an eating area, and then another for the furniture like lounge chairs or a firepit, then spin off to a pool — all with the purpose of creating separate "outdoor rooms."
"It's the same concept as inside your house where each space has a different use, but because you're outside, there are no walls, which then creates an uninterrupted view of the yard," Markey says.
Create the space with knee-height retaining walls with seating areas and small landscape walls designed with paving stones. Prices start around $3,000.
When it comes to paving materials, busy patterns are out of style, and the colors trend toward shades of gray, Nicolia says. The overall look is a clean
one, with large pavers that are 16 by 24 inches to 24 by 24. The cost of an average 400-square-foot area for paving and seating is between $8,000
and $15,000. 
Use porcelain inside and out
If your outdoor space includes a kitchen, Bernadette White, owner and vice president of Cancos Tile and Stone in Farmingville, says you can choose from a selection of outdoor ceramics and porcelain products for the flooring, countertop and walls. They come in a variety of colors and sizes, and you can even coordinate your indoor and outdoor pavers, though the outdoor products are slightly thicker and more slip resistant.
"You can also match the outside kitchen to the inside with porcelain countertops that have such high-definition clarity that each piece of tile can show a much crisper veining of marble than in the past," White says. "And because they come in different thicknesses, you can lay a thicker countertop and use a thinner covering instead of brick or stone on the walls."
Indoor and outdoor porcelain flooring starts at $4 a square foot up to $8. The countertop can run from $65 to $85 a square foot. 
Wow with water

Many outdoor escapes include water elements that can be used nearly year-round. People are opting for hot tubs, saunas and plunge pools, which Joseph Musnicki, president of Ocean Spray Hot Tubs in Westhampton Beach, says reflects a growing wellness trend. "They want a way to reduce stress and spend family time in the yard beyond summer," he says.
The plunge pool, which can be up to 20 feet long and 8 feet wide, is a unit used for aquatic exercises; some even have a built-in hydraulic treadmill option. They start at $19,900 and run up to $59,000.
Hot tubs remain popular and tend to be installed close to the house for quick access. The average cost is $9,000. Saunas are another wellness trend, Musnicki says, and because they're enclosed, they can be put anywhere on the property. The prices vary from $7,995 to $40,000 depending on the size of the structure.
Ponds are another trendy water option. Andrew Variano, manager at S. Scherer and Sons, Inc. in Northport, says that new equipment like skimmer systems, biological filters and UV lights make for easier maintenance, while new rubber liners allow for freeform shapes.
"This gives you freedom with the design and depth so fish can winter at 2 to 3 feet down," Variano says.
Eric Hagenbruch, owner of Finesse Landscape Design, Inc. in Saint James, stressed the importance of creating a natural look when adding a pond or waterfall. "For example, I make sure the entire landscape looks as if it's always been there," Hagenbruch says. "The planting around the waterfall or pond is also important. In the winter months, most waterfalls are turned off. I try to create interest around the waterfall, and the entire backyard, that's nice to look at during all four seasons."
Most ponds have a mix of lilies, koi and goldfish to provide a variety of colors. "Be sure to design a hiding spot or cave in the pond, so the fish have a place to hide from predators like large birds or racoons," Hagenbruch says.
Project materials run from $1,000 up to $5,000 with top-of-the line filters, and many landscapers can install them for another fee.
If you don't want the maintenance of a pond, but want the water sound, try a pondless waterfall, which disappears into a pit of gravel. It starts at around $500.
Go under cover

Of course, the elements can interfere with your backyard, but there are ways to protect your family and extend your outdoor seasonal use. Daniella Hart, executive director of operations for Dart Awnings in Freeport, says that awning sun and rain protection can be free-standing or mounted on your home, depending on when you plan to use your yard.
"People who use it only during the summer tend toward the stationary, free-standing covering that has supports in the front and back," Hart says. "For year-round patio covers that are mounted to the house, you can use a louvered roof that pivots so you can open and close it to change the amount of light and ventilation."
Patio covers are solid roofs and run about $40 a square foot. A louvered roof starts at $100 per square foot up to $300 a square foot based on options like column choice and if you want to add a ceiling fan.
Light up the night

You'll also want to consider lighting, which Markey says can give your backyard retreat a completely different look at night. Rather than have a runway look or streetlamps, LED strips can be tucked into steps and trees.
"It not about having lighting that's a prominent feature, but rather blending in low-voltage lighting on a timer to create a mood," Markey says. "It should blend in with everything and light for tasks like the barbecue and to highlight a statue or garden. It should look natural."
Depending on the areas you need to light, the cost can start at $7,000.
Liza N. Burby is a freelance writer who is inspired to redesign her yard in the near future.