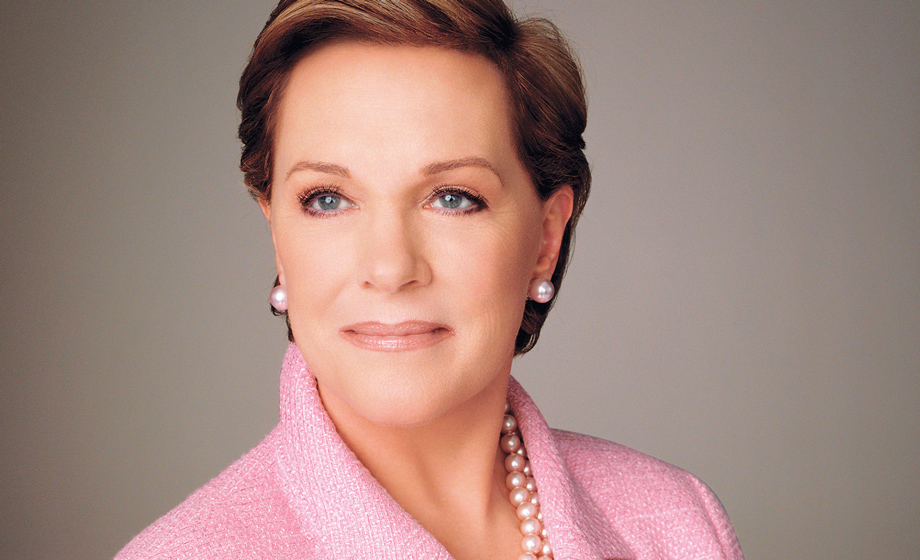 Photo credit: Andrew Eccles
Julie Andrews reflects on a life lived large in her new memoir
Julie Andrews almost turned down "The Sound of Music."
That's one of many fascinating details in "Home Work: A Memoir of My Hollywood Years" (Hachette Books, 2019), the new book by Andrews and her daughter Emma Walton Hamilton that outlines her jump from theater to film. She'd seen the show on Broadway and wasn't especially impressed. "We loved the music, but the show seemed rather saccharine," she writes. And, having just completed "Mary Poppins," she was worried about being typecast as a nanny. Happily, she was convinced to take on the role of Maria Von Trapp, and the world fell in love. To those who encouraged her to do the movie she writes, "I'll be forever grateful for the nudge over the fence."
Andrews' writing career started in the '70s with two books for middle-grade readers (using her own kids as test readers). "It was a great high to use my own children," says Andrews, 84, on a call with her daughter from her East End home. "They were very patient with their mum."
By the time in the late '90s her publisher asked if she had anything for younger children, Walton Hamilton, 57, whose father is Andrews' first husband, Tony Walton, had a little boy of her own — and he loved trucks. The pair teamed up for "Dumpy the Dump Truck," the first of more than 30 books this mother-daughter duo would write together. 
The new memoir, released last October, picks up where her first, "Home," stopped, with Andrews leaving New York and her flourishing Broadway career ("My Fair Lady" and "Camelot," among others) for Hollywood, where Walt Disney himself had delayed the filming of "Mary Poppins" because Andrews was pregnant with Emma.
There are painful memories in the book, both women readily acknowledge, and writing was often difficult. "It was moving and sad at times," says Andrews. "There definitely was difficult stuff to revisit," says Walton Hamilton, a founder of Bay Street Theater in Sag Harbor and a faculty member in Stony Brook Southampton's creative writing and literature program. On days where she knew something tough was approaching — the death of her grandmother, moving to New York to live with her father — Walton Hamilton says they would try to frontload the day, tackling those issues early while relatively fresh. That way, she says, "I could end the day not feeling like I was leaving my mom in the dark sobbing."
"It's very interesting to write a memoir because it's like living your life all over again," says Andrews. "It's pretty exhausting, I must say." The book, she says, contains "no great shocks or revelations." But it's full of delicious details (how she developed that famous Mary Poppins toes-turned-out walk) and poignant recollections, including her humanitarian trip to Southeast Asia. And there's marvelous name dropping, from costars like Dick Van Dyke, Rock Hudson, James Garner, Richard Harris, Paul Newman, to those simply in her orbit, like Carol Channing, Irving Berlin, Elizabeth Taylor and Richard Burton. The list could go on and on. 
"Home Work" ends with the 1986 movie "That's Life!" a semi biographical film by Andrews' second husband, Blake Edwards, in which she prophetically plays a singer who has a throat biopsy. The book does not cover the actual surgery Andrews underwent in 1997 to remove nodules on her vocal cords, surgery that robbed her of her singing voice. Interestingly, early in the book she writes about such a potentiality: "Singing had become such a part of me … that if the wonder and the joy of it were ever taken away, I might not survive."
Survive she did, of course, though she says "it was pretty devasting. I thought I would go crazy if I didn't do something creative," she recalls, remembering that Walton Hamilton simply said, "Well, mom, you have to find a new way of using your voice." That hit me so strongly, says Andrews. "It was as if a great weight fell off my shoulders." Those words, says Andrews, freed me and made me "realize that the opportunity of using my voice in a different way would never have presented itself if I'd not had that devastating experience of the throat operation." To be continued, she says. "I'll discuss that at some point. Later."
In the meantime, Andrews has a lot on her plate. She's doing narration for a new Netflix series, "Bridgerton" (think American "Downton Abbey"), and she's done some directing, including a production of "My Fair Lady" in Australia (imagine the pressure on the actress playing Eliza Doolittle.) The writing continues, of course, with the likelihood of a third memoir, and she and Hamilton are developing a podcast about children's literature. Plus, there have been suggestions of another "Princess Diaries" film and perhaps a return to Broadway. "Nothing is absolutely out of the question," says Andrews. "I love trying new things and being adventurous."
But as Walton Hamilton lovingly notes, "I think you're enjoying being here doing your own creative projects, being close to your garden and your dogs and your grandchildren." No denial from Andrews on that count. Concluding the new memoir, "there aren't many truths of which I am certain," Andrews says. "But writing this book, I was reminded over and over again of one that I am rock-solid about: I have been lucky." 
Freelance writer Barbara Schuler was Newsday's features editor and theater critic.