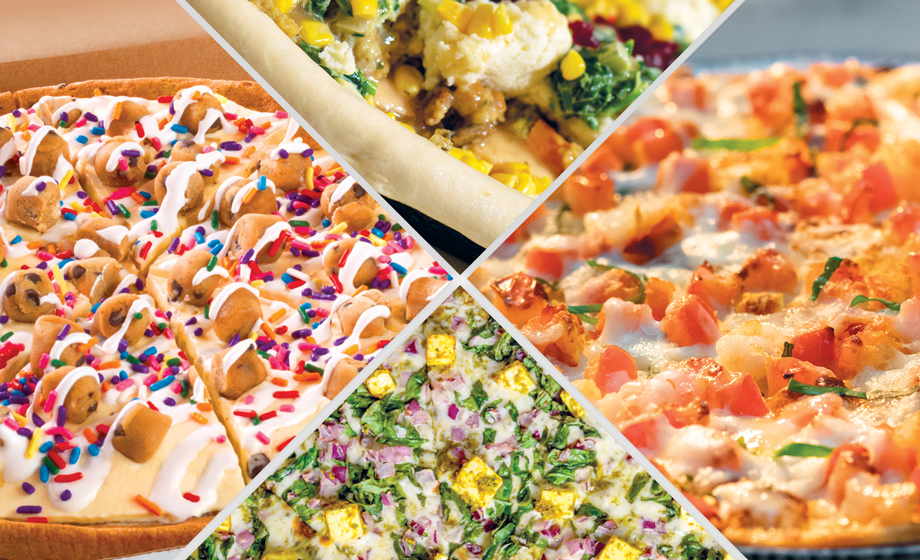 Clockwise from top: Phil's 2 Pizza, Red Lobster, Curry On Pizza, Baskin-Robbins

A slice for every mood
With endless, innovative options on Long Island, you can match your pizza to your mood. Whether you wake up on the cranky side of the bed or you're feeling adventurous for dinner, you can easily find a slice to feed every emotion.
You wake up in a crabby mood
Order a breakfast pizza from Suburban Eats (Melville). Boost your mood while sinking your teeth into a crisp layer of bacon, scrambled eggs and melted cheese spread across a thin pizza crust. suburbaneats.com
You're furious and want to claw something to shreds
Try a mini lobster pizza from Red Lobster (Hicksville, Valley Stream, Carle Place, Copiague, Lake Ronkonkoma, Deer Park, Stony Brook). Juicy chunks of lobster sit on each slice, along with tomatoes, herbs and cheese on a thin crust. redlobster.com
You're feeling impatient
Grab a Polar Pizza ice cream pie and eat it immediately from Baskin-Robbins (44 Long Island locations). Customize your own or choose from flavors like Chocolate Chip Cookie Dough, Oreo Cookies 'n Cream and more, which can be ordered or picked up at most stores. baskinrobbins.com
You have a nervous breakdown because you burned Thanksgiving dinner
Pack up your family and enjoy a pizza topped with fresh turkey, cranberry sauce, mashed potatoes and sausage stuffing at Phil's 2 Pizza (Massapequa Park). Other specialty pizzas include chicken pot pie, mac and cheese with a pretzel crust, Blooming Onion and more. phils2.pizza/contact.html
You're grateful to be celebrating a special birthday
Put a candle in the crust of a pizza shaped like any number or letter at Vito's Ristorante & Pizzeria (Glen Cove). You can also order mermaid-shaped pizza topped with Nutella, marshmallows and cotton candy, as well as an apple pizza for your child's teacher. vitospizzany.com
You're regretful that you've eaten so much pizza lately, but still craving a slice
Grab a lighter pie at Skinny Pizza (Roslyn Heights, skinnypizza.com). The menu lists the calorie counts for their healthful pizzas, which are freshly prepared, often using organic, farm-to-table and gluten-free ingredients. A low-carb Keto cauliflower crust is now available. At Kitchen Kabaret (Bay Shore, Roslyn Heights, kitchenkabaret.com), you'll find a salad pizza topped with chopped cucumber, tomato, broccoli, lettuce, corn and carrots on a thin pizza shell. Plus, there's a hint of melted cheese and a sprinkle of Italian dressing.
You have wanderlust
Try a Mexican pizza at Green Cactus Mexican Grill (Rockville Centre, Huntington, Stony Brook, Roslyn, greencactusgrill.com). A flour tortilla is the base for layers of black or pinto beans, guacamole, sour cream, jack and cheddar cheeses, and Pico de Gallo. Check out Indian pizza at Curry On Pizza (Bellerose, near Nassau County border, curryonpizzamenu.com), which features traditional Indian sauces, spices and toppings on signature pizzas such as chicken tiki. The saag paneer pizza comes with fresh spinach leaves, paneer (cheese), saag sauce, and more. Try the Japanese tuna pizza at Otaki Sushi (Garden City Park, otakisushi.com), which is a triangle-shaped scallion pancake topped with thinly sliced red tuna, jalapeno, spicy mayo, avocado and caviar. Check out the kosher dairy vegetarian pie at Green Olive (New Hyde Park, greenolivekosherpizza.com), with rich cheese, crispy fried bits of soy chicken, soy bacon, falafel and more. 
Cathi Turow is a Long Island-based food and feature story writer.