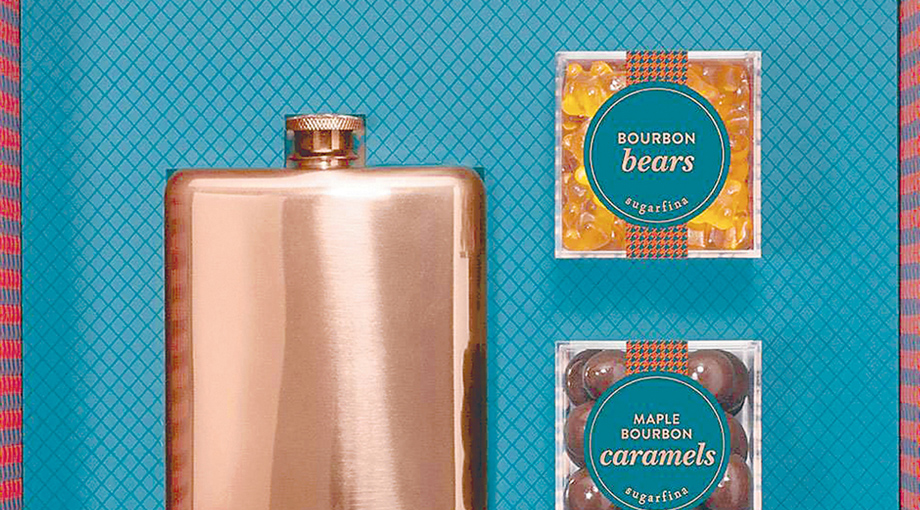 Like cocktails, love comes in many flavors. From spicy to sweet, classic to unexpected, we've taken inspiration from all the amour in the atmosphere to bring you an array of gifts and libations that are the perfect way to show that special someone — whether a best friend, partner or even yourself — how much you care. 
Get Cozy
With an eye towards stitching together high-quality materials, Graf Lantz offers a Merino wool and leather cozy that can be used to carry a couple of bottles to a fabulous party of 20 or an intimate picnic for two. Cozy Wine Carrier Duo. $64, verishop.com
Sparkling Romance
Each glass of this bubbly coral wine, sustainably produced by Southold's Sparkling Pointe vineyard, combines notes of strawberry, rose petal, cherry and biscotti. Pair with oysters and lobster for an evening as fiery as a Long Island sunset. Topaz Impérial Brut Rosé Magnum. $95, sparklingpointe.com
Sip Around the World
Although many associate whisky with Scotland, this hot and smoky liquor is actually distilled in a wide variety of countries. The Perfect Measure's sampling box includes tastes from the United States, India, Taiwan, Japan and England. Around the World Whisky Gift Set. $55.80, thewhiskyexchange.com
Rum-thing Sweet
This year, instead of roses, give them 24 reasons to smile by showing up with two-dozen pillowy almond cookies sandwiching luscious RumChata cream liqueur filling. All natural and gluten free. RumChata French Macarons. $38, rumchatacakes.com
Enchanting Decanter
Los Angeles-based designer Joe Cariati forms molten glass into sinuous pieces of functional midcentury modern-
inspired objets d'art. Like the 2,400-degree furnace used in his studio, this colorful decanter would surely melt the heart of anyone lucky enough to receive it. Genie Bottle Petite Decanter. $595, joecariati.com
Mugs and Kisses
Warm up each day with this pair of Cupid-approved porcelain mugs that are simply made to smooch: When the lips touch, the handles form a heart shape. Ideal for serving Baileys Irish coffees or hot toddies. The Kissing Mugs. $65, uncommongoods.com
Gimme Some Sugar
Luxury confectionery brand Sugarfina combines the childlike joy of eating squishy candy with grownup flavors and ingredients. This set features bourbon bears, maple bourbon caramels and a copper flask, all nestled in a gift-ready peacock colored box. Vice 2.0 Collection Flask Gift Set. $42, neimanmarcus.com
Dark Decadence
Notes of velvety cocoa, vibrant black cherry, zesty orange peel and a kiss of cold-brew coffee melt together in this rich offering from Godiva, which practically begs to be drizzled on top of ice cream or mixed into a cocktail. Dark chocolate martini anyone? Godiva Dark Chocolate Liqueur. $41, caskcartel.com
Follow the intoxicating adventures of writer and musician Jay Max on Instagram, @JayMaxMusic.