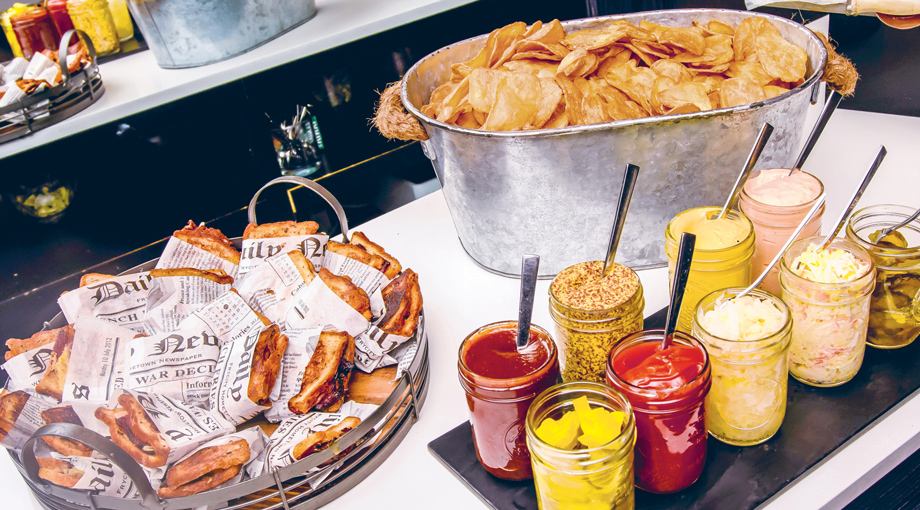 An exit station featuring pretzels and chips at the Harbor Club at Prime. Photo credit: DejaVu Studios
From tiny beer mugs to 20-foot-long appetizer trays, wedding caterers are on trend
To get the latest on Long Island wedding food trends, Long Island Living spoke to directors of three local leading venues: Victoria Scotto, sales director at Chateau Briand Caterers in Carle Place; Keith Wedderburn, general manager at Harbor Club at Prime in Huntington; and Kate Wiggins, sales director at The Vineyards at Aquebogue.
Here's what they had to say.
Keith Wedderburn: I'm finding brides and grooms are looking for diverse cuisine, plant-based foods, gluten-free foods and things that are in keeping with who they are as a couple.
Kate Wiggins: I'm seeing lots of couples want inclusive, eco-friendly, farm-to-table menus with produce from local farms, beverages from Long Island wineries and breweries, and recyclable products. Couples also want foods that reflect their lives together. So, a couple might ask to bring in a Montauk beer because they met in Montauk.
Victoria Scotto: I'm seeing a lot of weddings with couples of two ethnicities and they want to incorporate foods from their backgrounds. For example, I just met a couple with an Italian bride and Indian groom. We see a ton of different cultures and incorporate the foods to make everyone happy.
Wiggins: Couples are also concerned about how the food is going to look on social media. They hope people will say, "Wow! That was cool!" It's so funny because I'm seeing couples going for weddings with organic foods and paper straws, and those might be the same people who are asking for a 5-foot-tall cinnamon bun wedding cake. It's a very strange mix, but honestly, it works!
What are some cocktail hour trends?
Wedderburn: We're doing a ceviche station, a ramen station, dumpling carts…
Wiggins: We do hors d'oeuvre shooters. Imagine a shot glass with tomato soup and on top there's a little skewer with a fig and Brie cheese.
Scotto: We have a mashed potato bar. We put the mashed potatoes in a martini glass. Then the guests get all these fun toppings like chives, cheese, sour cream and bacon.
Wedderburn: Sometimes we do a vegan menu all around. We'll make cauliflower into a beautiful
carving station.
Wiggins: We put local beer in tiny beer mugs — like shot glasses. Then on top we put a mini corn dog in a skewer. A lot of people like the shooter option because it's like two hors d'oeuvres in one.
Scotto: We'll do a Peking duck station.
Wiggins: And people are doing very elaborate charcuterie boards. Here are two up-and-coming concepts: a 20-foot-long appetizer tray, and flowers frozen inside a bar made of ice.
Wedderburn: You know what else is in vogue? Drink stations. People have signature cocktails that accentuate who they are. Sometimes they give cocktails special names. We have mojito bars, super high-end tequila bars, garden bars with fresh produce. Very hip.
What about dessert trends?
Wedderburn: Inside out cakes are very popular. The outside is on the inside and vice versa. We also do upside down wedding cakes — the cake is upside down and suspended. Sometimes the couple's initials are the cake.
Scotto: And cake toppers are geared toward what couples are interested in — like hobbies and sports.
Wiggins: Here's a trendy dessert idea: a clear umbrella with hooks all around the outside. Pretzels and churros are hanging on the hooks, and a waiter passes them to the guests. Couples are requesting it.
Wedderburn: Passed desserts are also in vogue, so each dessert gets to every guest. Waiters pass around mini ice cream cones or mini milkshakes with a warm cookie.
Scotto: And a very popular add-on to weddings are exit stations. We create our own food stations that guests can choose from on their way out. We do a donut station, hot chocolate, pizza.
Wiggins: I'm even seeing a lot of couples with food trucks as exit stations. One couple told me, "We met in a winery and there was a food truck there. We want the same food truck at our wedding." It was nice.
And your goals for all these weddings?
Wedderburn: We hope every couple says we made their dream come to light. There's no better reward. 
Cathi Turow is a Long Island-based food and feature story writer.