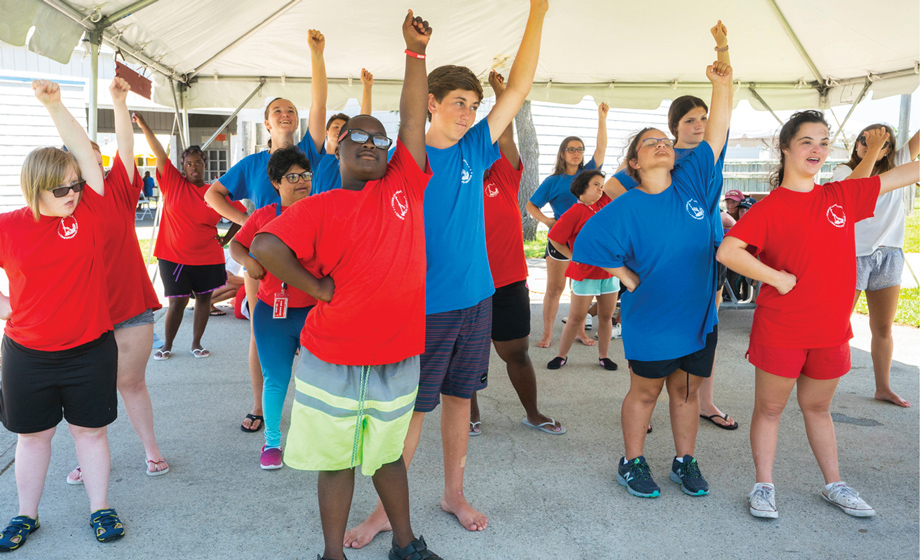 Campers take part in a dance class. Photo credit: Randee Daddona
Year-round fun for people of all abilities
When Marianne Pizza's son, Michael, 24, of Franklin Square, was diagnosed with a severe developmental disability in the late 1990s, he didn't speak and lacked basic motor skills to hold a baseball bat or ride a bike.
"I would take him to the community pool and neighborhood playground and he would be shunned by the other children," recalled Pizza."I couldn't take him anywhere to play."
But Michael's life changed after she enrolled him in Camp Anchor, the Lido Beach-based recreational program run by the Town of Hempstead. "He felt like he belonged there," Pizza said. "So many people there love and adore him and he has made so many friends. He has grown and I learned how to help him grow."
Founded in 1968 as a six-week summer camp, Camp Anchor, an acronym for Answering the Needs of Citizens with Handicaps Through Organized Recreation, is now a year-round program, serving more than 670 special needs children and adults who live in the Town of Hempstead. The camp employs more than 250 mostly part-time staff, and is funded by the town and the Camp Anchor Program Fund, its nonprofit organization.
"Camp Anchor provides a place where these individuals can have fun," said Barbara Simms, Town of Hempstead's Department of Parks and Recreation special assistant to Camp Anchor. "It's a place where they can laugh and feel secure, a place that will not ostracize them or look at them differently."
The summer camp, held in multiple giant tents on the shores of Lido Beach, offers activities ranging from swimming and surfing to horseback riding and crafts. On a dozen Saturdays throughout the year, Camp Anchor provides an all-day recreational program featuring activities like basketball and dek hockey (played with a ball instead of a puck) at the Rosemary Kennedy School in Wantagh. The camp's adult Saturday program offers field trips to points of interest on Long Island and Manhattan for ages 16 and older who can function independently with supervision.
But the fun doesn't stop there. On weeknights or afternoons in the fall, winter and spring, campers can participate in Taekwondo and home economics along with monthly dances complete with a DJ at Lido Beach's Malone-Mulhall Recreation Center. Indoor swimming is also available at West Hempstead's Echo Park.
The cost of the year-round program is roughly $200, which includes transportation to the summer camp and Saturday programs.
Camp Anchor is "unique," said Don Clavin, Town of Hempstead supervisor. "We have had counties in other states try to mimic this program." The program's officials and volunteers say what makes the program special are the friendships formed between the campers and volunteers.
Logan Ely, 17, is one of the more than 340 volunteers. The high school senior who divides his time between Atlantic Beach and St. Augustine, Florida, began volunteering at Camp Anchor's summer camp in 2017 after his cousin had a meaningful volunteer experience there. Ely, who plans to apply for a staff position at the camp this summer, said he can't wait to return.
"Seeing their smiles at the end of the day is my greatest reward," Ely said. "I look forward to Mondays, the start of the week, to see my 30 [camp] friends who are my best friends for the summer. It brings me joy to make sure they're having the best summer ever. When I'm smiling, they're smiling." 
Donna Kutt Nahas is a lifestyle, wellness and general interest features writer.