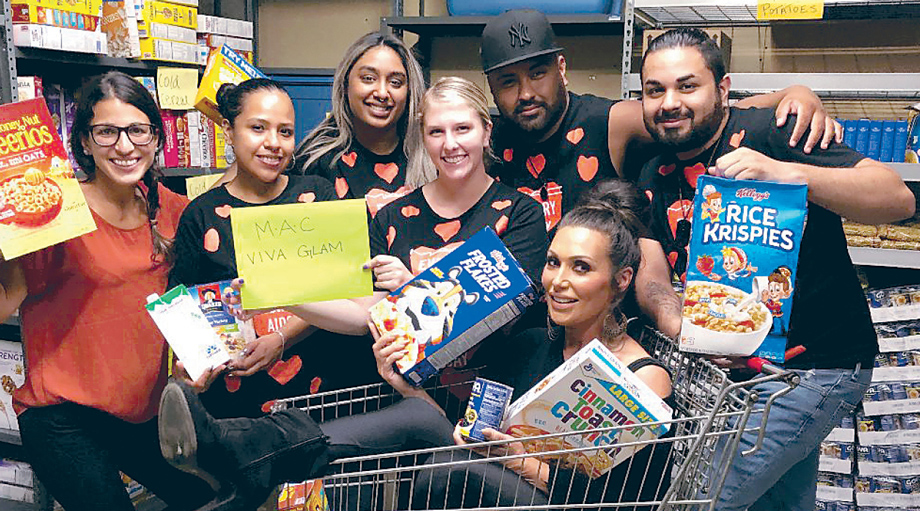 MAC Cosmetics volunteers stock pantry shelves for the EAC Network. Photo credit: Carol O'Neill
EAC Network touches the lives of 60,000 LIers each year
For several years, Leonard Pogensky, 93, of Westbury, has been caring for his wife, Gloria, 92, who is suffering from early stage dementia. The retired business owner grocery shops, cooks, keeps house, and helps bathe and dress his wife of nearly 70 years. But in 2016, the grandfather of four, who admits he "doesn't like to ask for help from anybody," reached out for support to EAC (Education and Assistance Corporation) Network, a not-for-profit human services organization headquartered in Hempstead.
For three hours, two days a week, a volunteer with the network's In-Home Respite Services helps Gloria "live the life she can live with her impairment. She makes Gloria feel like a human being, a person," said Leonard. "My wife hasn't lost herself and that's because of our volunteer."
While the volunteer offers Gloria a listening ear or helps her solve jigsaw puzzles, Leonard is free to grocery shop, peruse a book at his local library or visit with his grandchildren.
EAC Network, founded in 1969 to offer educational and vocational opportunities to local youth, has since evolved to offer a wide array of services. More than 100 programs, funded by federal, state and local governments along with private donations, range from helping children in foster care and providing meals to nutritionally at-risk seniors to offering Lemon Law arbitrations and substance abuse treatment services. The organization reaches more than 60,000 Long Islanders annually, and another 20,000 in New York City and Rockland County.
"As time passed, we noticed that many of our clients don't have just one problem, but multiple problems," said EAC Network president and CEO Lance W. Elder. "We wanted to take care of our clients more effectively."
Demand for EAC Network's multiple programs and services has been rising. For example, EAC Network's Community Guardianship in Nassau, a program that helps an individual who is physically, mentally or developmentally incapacitated, has noticed an uptick in growth. In 2017, court-appointed EAC staff and trained volunteers assisted 19 residents with a range of issues, and in 2018, the organization helped 39 residents.
Over the past two years, EAC Network, one of two community-based organizations in Nassau that distributes Meals on Wheels to homebound seniors, saw a surge in deliveries, serving more than 1,100 clients in 2018, up from 180 in 2017, according to the EAC Network.
Long Island's senior population, aged 65 and older, is on the rise, soaring by 27.9 percent, from 379,242 residents to 484,862 in 2017, according to The Center for an Urban Future, a Manhattan think tank.
Carol O'Neill, senior director of senior and nutrition services at EAC Network, explained that eligibility for the service is not needs-based. "Anyone who lives alone and is unable to grocery shop and cook or lives with someone who can't do that for them is eligible for Meals on Wheels," she said.
Maryann Buchmann, of Farmingdale, is one of EAC Network's nearly 400 volunteers. One morning a week, the retired special education teacher delivers meals to seniors in Old Bethpage. During the two years that Buchmann has volunteered, she says she has gained more than what she has given. "You're not just feeding people, you're feeding the soul," she said. "Never in a million years would I have dreamed that the soul that is being fed the most is mine." 
Donna Kutt Nahas is a lifestyle, wellness, and general interest features writer.