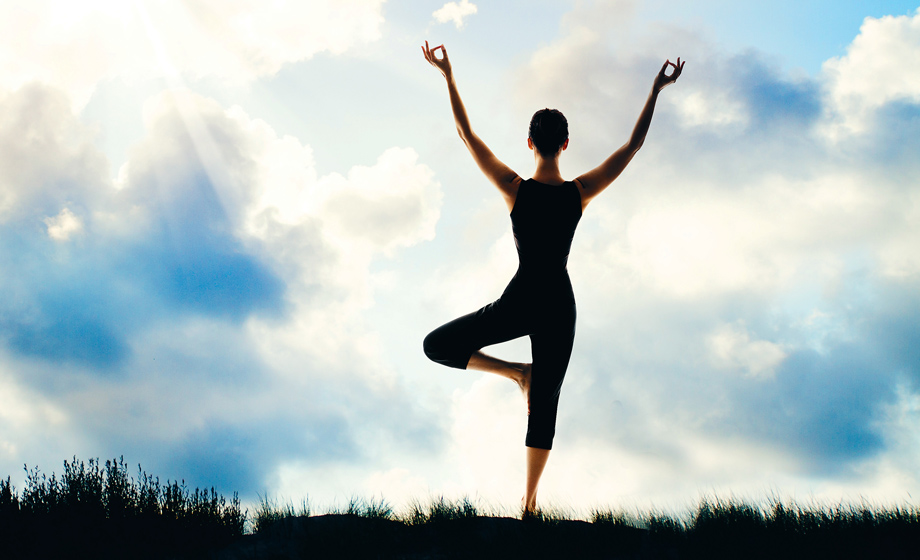 Photo credit: Getty Images
Embracing yoga's many benefits
Downward Dogs are on the upswing on Long Island and throughout the nation, as practitioners credit yoga with everything from improving mental health to increasing bone density. In fact, the percentage of American adults looking to promote physical and mental well-being through yoga grew by 51% between 2012 and 2017, according the National Institutes of Health.
A growing interest

Today, there's no shortage of yoga studios or yoga classes at gyms and other local venues for people looking to stretch their way to better health. But that wasn't always the case. When Pam Karr first tried yoga in the mid '70s, she didn't know of any local studios. "Back then it was a very rare thing," the Point Lookout resident said. Today, Karr practices at a local yoga studio and at home, and said classes are available through adult-education programs, libraries and the town. "It has really exploded in the last 15 years," she said.
Yoga instructor Vicky Seff, of Bellmore, who primarily teaches yoga at libraries, said back pain was the reason many people attended. This inspired her to create a back-care class as part of her school district's adult education program, which she has been teaching now for more than two years. More and more people sign up each year, she said.
As more Long Island gyms offer yoga classes and private studios open, there is more competition for clients, said Roberta Kaznocha, owner of Om Shanti Yoga & Reiki Center in Sayville. Her studio averages about five new clients a week. "There is definitely a tremendous amount of interest in it, but there are also a lot of yoga studios right now," Kaznocha said.
Om for better health

Some health-care professionals agree yoga is therapeutic. Catherine Tuppo, a physical therapist and program coordinator at the Bariatric and Metabolic Weight Loss Center at Stony Brook Medicine, has practiced yoga for about 30 years and recommends it to her patients. "If done correctly, it really has overarching benefits," Tuppo said. These range from improving mental clarity and sleep to organ functions, heart conditions and more, she said.
Dr. Genna Hymowitz, a psychologist, clinical assistant professor and director of bariatric psychology, also at the Stony Brook Medicine weight loss center, said yoga helps improve patients' quality of life. "There are a number of patients who have weight difficulties and who also experience anxiety," she said. "Managing stress can be really helpful in overall weight management."
"There are good reasons why yoga has become as popular as it is," said Lisa Bondy, director of yoga at Northwell Health's Center for Wellness and Integrative Medicine in Roslyn, who has practiced yoga for more than 35 years and taught it for 20. "Yoga helps us to come to the present moment, and it teaches us focus, and in these times when we are multitasking all the time, we are so scattered mentally," she said. The center offers many classes, including one for Northwell patients battling breast cancer. Classes open to the public include prenatal yoga and cardiac yoga for prevention of or recovery from heart disease.
Proof is in the practice

Fans of yoga can often see a difference in their everyday lives. Karr believes yoga helps her to maintain physical flexibility. "When I'm at a restaurant down the street with my granddaughter, who is 4, and she drops a crayon under the table, I can just slide down the booth and pick it up," she said.   
JoAnn Bedford, an East Islip resident who works with autistic children at a local nonprofit, credits her regular practice of yoga with increasing her bone density. "I had the beginning of osteoporosis, and when I went back for a bone scan the last time, my bone density had increased by 5%," said Bedford, who attends classes at Om Shanti. 
Long Island's most popular

Yoga, which began as a spiritual practice in ancient India, emphasizes posture, breathing techniques and meditation. The three most popular forms of yoga practiced across the country and on Long Island include:
Hatha, the most well-known, is considered a gentler form of yoga. Its best-known poses are the Warrior and Downward Facing Dog.
Iyengar emphasizes a flow of movements, longer poses, body alignment and the use of props such as blocks and belts, making it accessible to everyone.
Bikram, or hot yoga, features 26 poses practiced in rooms heated to 105 degrees, which makes the body sweat out toxins and muscles more flexible.
Before you begin
Health experts suggest that you get medical clearance from your doctor, particularly if you plan to take yoga for aliments.

Check out yoga studios' websites for programs best suited to your needs.

 Take a basic class to see if a studio is a good fit for you.
Carrie Mason-Draffen is a former Newsday business reporter and columnist.