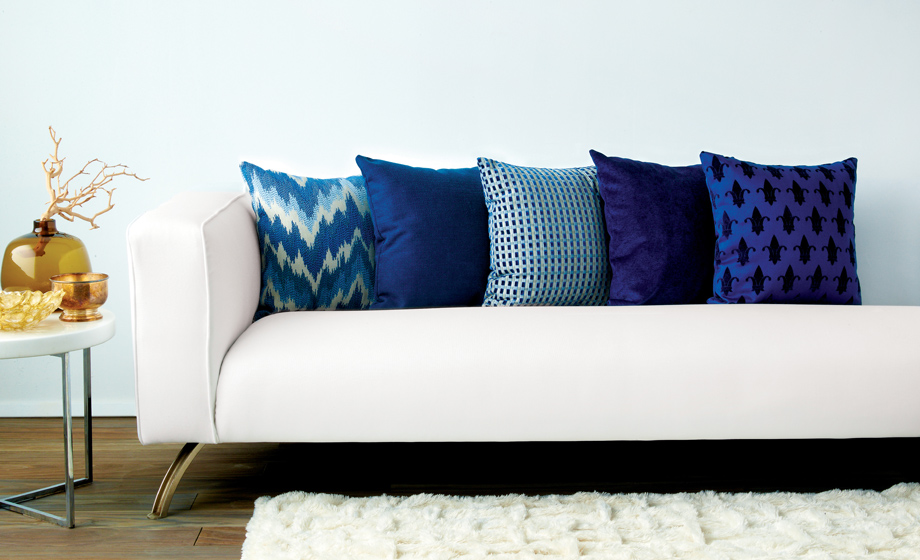 Plump up your sofa with a variety of decorative throw pillows (shown here in the Royalty Collection). Contrasting patterns in velvets, suedes and textured fabrics make a vivid visual statement in the den or living room.
Go classic with Pantone's Color of the Year
Ushering in a brand-new season comes Pantone's Color of the Year: Classic Blue. Chosen for its ability to exude "calm, confidence and connection," this tried-and-true hue is designed to promote a sense of stability and create a comfortable environment.
"Colors and emotions are closely linked," says Rebecca Goodman, interior designer and owner of Lola Tucker Interiors in Sea Cliff. "When selecting colors for your home, consider how you want the space to feel. If you desire a calmer space, use different shades of blue to create your own oasis."
Thanks to its universal appeal, Classic Blue by definition is meant to fit into any setting. "It's just that: classic," says Erin Andrews, interior designer and owner of Indigo House Interiors in Bellmore. "It can work and appeal to a wide range of people and spaces."
When deciding how to incorporate the color into your everyday surroundings, pay close attention to your existing lighting. "A room with a lot of natural light can really stand up to a stronger, darker color like this," says Andrews. "In a darker room, you can embrace that lack of light, and it can feel moody and den-like." During a recent design project, she enhanced a client's den with blue artwork that played off dark wood and grey furnishings.
In the bedroom, a simple upgrade allows you to add subtle blue notes without undergoing a complete overhaul. "Changing out pillows, linens . . . is an easy way to add this classic color to your home," says Goodman. To dress up your sleep space even more, think about the overall tone you are looking to achieve. "Brass accents and lighter bedding would add femininity," offers Andrews, noting that grey houndstooth, pinstripes or plaid create a more masculine vibe.
And don't forget about introducing the shade into the hub of the home: your kitchen. "It can make a utilitarian space feel more polished [and] . . . an eat-in kitchen feel cozier and like a dining room," says Andrews.
Pamela Brill lives in a Northport home outfitted in her favorite color.