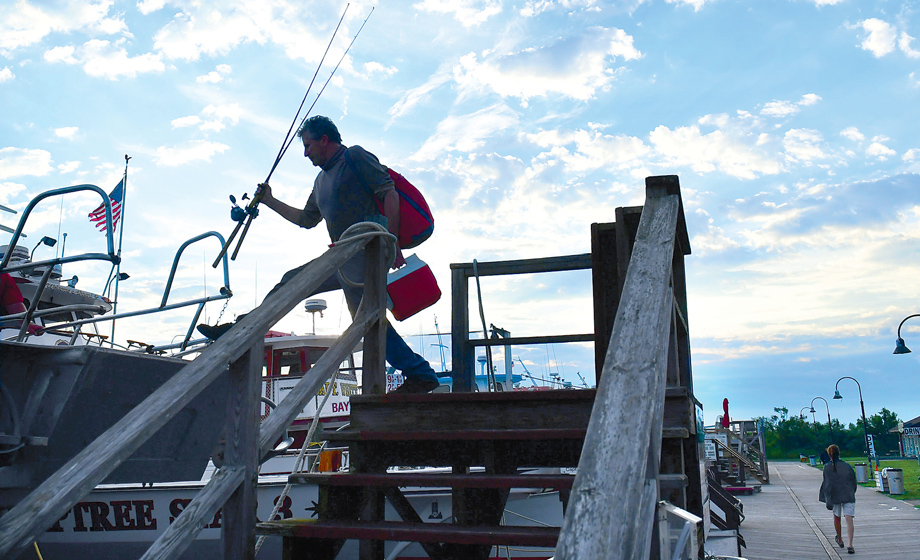 Captree State Park in Babylon. Photo credit: Newsday/ Thomas A. Ferrara
Spring break is right around the corner, and if you're looking for something different, consider Costa Rica, one of Central America's most popular destinations. For day trips, check out these Long Island and New York City spots offering adventure and excitement on the water, in the sand and on the street.
Long Island
Go Fish!
April kicks off the fishing season for flounder, blackfish and striped bass. Anglers can cast a line at Magnolia
Pier in Long Beach, Town Dock Park in Port Washington or Harborfront Park in Port Jefferson. To combine a fishing expedition with a boat ride, board a Captree Fishing Fleet (captreefleet.com) day trip at Captree State Park in Babylon. The fleet's big boats offer heated cabins, experienced captains and more – all at a pretty affordable price. dec.ny.gov
Greenport's Bustling Village
A spring stroll around this North Fork seaport leads to an all-weather carousel and restaurants specializing in fresh oysters and other locally caught seafood. Greenport's browse-worthy antique shops, clothing and accessory boutiques, and one-of-a-kind gourmet stops line Main and Front streets. It's also the last stop on the Long Island Beverage Trail: Greenport Harbor Brewing Company welcomes beer drinkers downtown, and Kontokosta Winery's tasting room accommodates swirl and sippers just outside town. greenportvillage.com 
A Night at the Casino
Want to experience Vegas-style fun without boarding a plane? Your best bet on Long Island continues to be Jake's 58 Hotel Casino, located in Islandia just off the LIE. It features 1,000 video lottery terminal gaming machines, Off-Track Betting kiosks and 227 guest rooms.  jakes58.com
New York City
Tribeca Film Festival, April 15-26
Academy Award-winner Robert DeNiro is among the organizers of this festival founded in 2001 in the wake of the 9/11 terrorist attacks. It's become a major platform for new work by established filmmakers and emerging voices in film, TV, VR gaming and more. tribecafilm.com
NYC Hot Sauce Expo, April 18 and 19
How hot is too hot? Find out with free hot sauce tastings at the Brooklyn Expo Center, and Spicy Taco from Hell, Spicy Pizza of Doom and hot wing challenges. Also on tap: the Booze and Infuse Cocktail National Championship and a chihuahua beauty pageant. nychotsauceexpo.com
Costa Rica
It's Central America's most popular tourism destination, with national parks bursting with volcanoes and waterfalls, coffee plantations, historic marketplaces and more.
HIKE A VOLCANO
Perched on the Pacific Rim's ring of fire, Costa Rica is home to six active and 61 dormant or extinct volcanoes accessible to tourists. Irazú is the most famous and tallest at 11,260 feet. Arenal Volcano National Park boasts 75% of the country's bird population and opportunities for waterfall rappelling, fishing, kayaking and cavern-hiking.
SHOP LIKE A LOCAL
The San Jose Central Market has been in business for almost 140 years with products ranging from local produce to souvenirs, traditional herbal medicines and, of course, coffee. Be sure to visit the local cafes where you'll find traditional soups, rice and meat, and the market's 100-year-old sweet shop.
TASTE THE COFFEE
Visit Costa Rica's coffee bean plantations at the Central Highlands and the Southern Mountain Range. A typical experience is found at Hacienda Espíritu Santo, a 600-acre coffee plantation where a tour takes in everything from growing the crops to harvesting and roasting facilities.
ART AND OXCARTS
Just outside San Jose lies Sarchí, a quaint hamlet where local artisans create paintings of colorful, decorative oxcarts traditionally used by farmers to transport coffee over the mountains. You can also pick up carved wooden utensils, jewelry, masks and furniture.
ROLL ON THE RIVER
Costa Rica's rivers plunge through volcanic mountain ranges toward the Caribbean Sea, the Pacific Ocean, the San Juan River and Lake Nicaragua. Conquer their white-water rapids on a day or an overnight rafting trip.   
ROOMS WITH A (SPECTACULAR) VIEW
Costa Rica's hotel accommodations range from international brands to Arenas del Mar Beachfront and Rainforest Resort and the Parador Resort and Spa on the Pacific Coast beach at Manuel Antonio National Park. Nearby rainforest trails may offer encounters with sloths, pelicans and butterflies.
Jim Merritt is a freelance writer who has traveled throughout the Americas and Europe.